Our Community
At our firm, we care deeply about the community in which we live, work, and serve. And we LOVE giving back! See below for all the ways we show we care. If you have any ideas about other ways to serve our community, please send us an email at WeCare@thomaslawdc.com. We want to hear from you!
So Others Might Eat 5K Turkey Trot for Hunger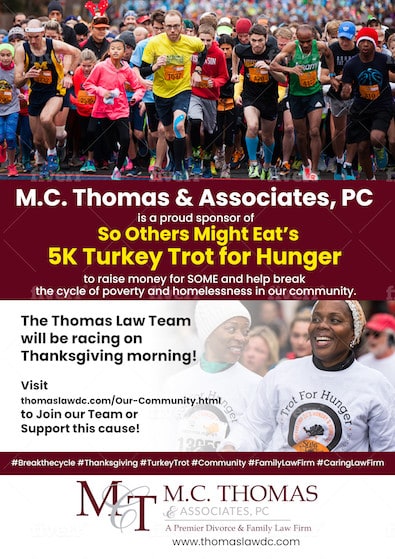 We're proud sponsors of SOME's Annual 5K Turkey Trot for Hunger to raise money for SOME and help break the cycle of poverty and homelessness in our community...and we're participants, too! Email WeCare@thomaslawdc.com to learn more about how to support this cause!
---
At M.C. Thomas & Associates, PC, we care about the community in which we serve. This is more than just a "job" to us. It is an opportunity for us to make a difference, not just in the lives of our clients--which is our first priority--but also, in the community in which we live, work and serve. Our "work" does not end at the end of the workday. Doing exceptional work, while positively impacting the world around us is not optional. As leaders in this field, we believe it's our responsibility to empower those who may otherwise be unable to afford legal counsel with legal information critical to their success. It's not just empty rhetoric; it's our responsibility.
Because of these beliefs, the firm has provided pro bono services by volunteering at the D.C. Bar Pro Bono Center's Advice & Referral Clinic and teaching free family law seminars for the Montgomery County Commission for Women and at local churches. We also volunteer at the local soup kitchen, Shepherd's Table in downtown Silver Spring to serve meals to those less fortunate— something the firm founder, Michelle Thomas, began doing at So Others Might Eat while in law school, and continues to enjoy to this day, among other engagements to serve.
If you would like to invite Michelle to speak to your organization on a pro bono basis about divorce, child custody and other family law matters, or share opportunities about charitable events and opportunities for sponsorship, please Contact Us today.